I have a love/hate relationship with ReStore. I love that their profits go to a good cause. I hate that they tend to be very over priced. But, they often have BOGO sales and I've been able to snag a good piece here and there. What you're about to see is one of the good pieces.
I forgot a true before picture, but I hurried up and snapped one with my cell phone before all the wood was covered up.
It was a good, solid piece and I saw the potential. $30 though! That is crazy. But, I bought something more expensive (a post for another day, maybe next week) and was able to pick this up for free.
My lovely assistant, (my boyfriend) was kind enough to sand it down for me. And he even helped with some of the painting. His sanding skills are phenomenal, but his painting skills need improvement... but he's learning! And I always appreciate his willingness to help (even in 90 degree heat out in the driveway).
We primed it and painted it in the leftover "Potter's Clay" from my file cabinet makeover. I still. love. this. color.
Anyway, next up hardware:
It had a very dated drop pull. I love drop pulls, but the cut out shape behind it just wasn't doing it for me. Solution: ask my dad if he could cut it off! He has his own machine shop and his metal working skills have come in handy on many occasions. Lucky for me, he looks at it and said i could probably pound it off with a hammer. And he was right! Quick and easy. I hit it with some oil rubbed bronze spray paint and called it a day. (Everyone is right, that stuff is great!)
After waiting patiently for it to dry I carried it upstairs to take a picture. I decided to try my hand at staging because all of you always make your pieces look so great with a few accessories. I ran around the house grabbing things here and there. I think I forgot to put them back (sorry, Mom!). Luckily, my mom has all sorts of great things she's collected over the years. I wonder if she's noticed that some of them are missing...
I love the two cubbies for cute things, like this box and maybe some pretty books and the drawer for things you don't need seen, like remotes and batteries.
I'm very happy with how it turned out. If only I had room for every piece I redo! I need to find homes for these babies.
I hope you enjoyed another end table... I might have an addiction... and I feel like there will be more in the future!
Sincerely,
Ashleigh
PS: Linking this post up here: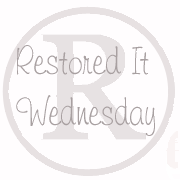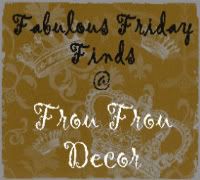 and
here at SNS
and here at
Tatertots & Jello
!!
My file cabinet was featured on Restore Interiors this week! I am so excited by this! Make sure to go pay that wonderful blog a visit!