I am addicted to end tables! I can't help it. There are so many different styles. Like shoes. I'm also addicted to shoes.
Enter this little guy:
I got him and another solid wood end table for $35 bucks thanks to my awesome Craigslisting skills.
(There's also a small dresser in negotiations! I'm really keeping my fingers crossed for this one!)
Anyway. I was just going to paint the whole thing but my boyfriend convinced my to stain the top and paint the rest. I was impressed! He's learning! He even offered to do the sanding. I am the luckiest girl in the world.
So here's the top stripped and conditioned, ready for stain.
I used Minwax Dark Walknut (big surprise there).
We took off these metal pieces. We almost used them but decided not to at the last minute. We filled in the tiny nail holes before we primed.
Sorry for this terrible shot, but here it is stained and primed. Gotta love the lighting in my "workshop." Oh, well. Beggars can't be choosers. I'm lucky my parents let me take over the basement!
He got two coats of MS Winter's Day. It's a really great blue-gray. I was going to replace the hardware but found the original worked best after a little spray painting.
Check out that wood grain!
I love the warm wood tones with the cooler gray.
The whole thing got a couple coats of wax and it really made the top look nice.
Here it is with a sneak peak of another project!
Here's a shot of his cute little feet. Love the casters.
Is it weird that I immediately assign a gender to each new piece I acquire? I hope not!
My cousin Jill, (gee, I've been mentioning her a lot lately!) saw this piece when I was working on it and decided it would be perfect for her bedside table. Here it is all dressed up. I'm loving the cute little bird!
I was sad to see it go but there are other end tables in the sea.
What do you think?
Sincerely,
Ashleigh
PS: Thank you so much to everyone who featured our coffee table makeover! It made my day :) You are all wonderful!
PPS: Linking up to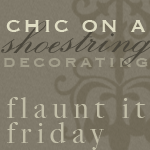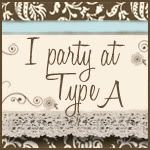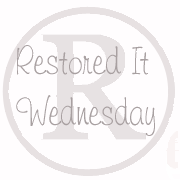 Tuesday's Treasures!
Wow Us Wednesdays!
Trash to Treasure!